It is our belief that we should all give back to our community as it creates goodwill, reinforces a positive brand image, and gives us all the opportunity to raise awareness while helping those in need. On a business level, we want to be sure that a charitable involvement which utilizes company resources and time, does so to further the brand image, to educate the consumer and ultimately to give back to the community.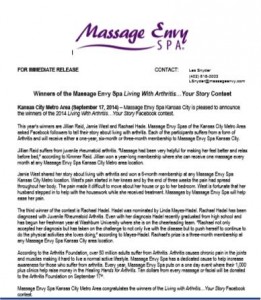 A key example is Massage Envy Spa's national and local involvement with the Arthritis Foundation. Healing Hands for Arthritis serves two purposes:
Raise money for arthritis research.
Inform the public and those with arthritis of the healing and therapeutic benefits of massage in the treatment of the disease.
A&K worked with the local Arthritis Foundations and regional Massage Envy Spa co-ops to go above and beyond just announcing the annual "Healing Hands for Arthritis" events. We have been instrumental in taking it a step further and creating an event: "The Faces of Arthritis: Your Story". This social media initiative asks participants to share their stories about living with arthritis. Additionally, we created a tandem campaign with the local Arthritis Foundation utilizing current Massage Envy Spa members who were living with arthritis and utilize massage therapy for symptom relief. Posters of the "Local Arthritis Ambassadors" were created, and stories were written and displayed in the region's clinics to add a personal touch to the arthritis story. This led to increased charitable donations through Healing Hands.